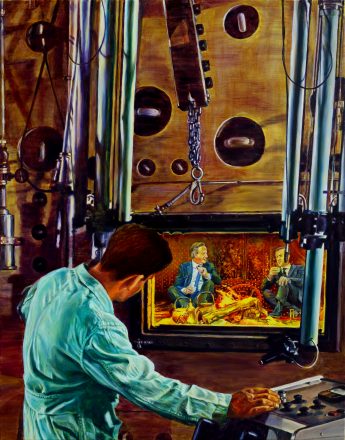 Susan Adams: I wanted this painting to show the character of the Ha-Ha Man as one who observes if not delicately controls the machinations of human behaviour, with a particular emphasis on the despicable or in Dante-speak, the deadly sins.  Somewhere deep beneath the earth's crust perhaps the Ha-Ha man works in a laboratory with worm holes beaming down blatant acts of greed, selfishness and cruelty that amuse him.  At particular moments he might twiddle a knob and turn up the heat on proceedings, and really make himself chortle.
The painting references a news photograph of David Cameron and Lex Greenhill in an echo of a detail from a Medieval doom painting.  You can easily imagine little devils wielding forks over them as they sip tea around the campfire in Riyadh where they went to woo Crown Prince Mohammed bin Salman, who had recently (reportedly) approved the murder of journalist Jamal Khashoggi.
I am not saying that the Ha Ha Man has links with Satan, he is far more enigmatic than that, neither good nor bad, a subject of rumour and myth.  The character was one of a number created by Jo Mazelis during a creative correspondence we had some years ago; he is the only one however, who cannot be silenced.
SUSAN ADAMS is a visual artist whose practice stretches across media including painting, sculpture, animation, printmaking and drawing. She is interested in exploring the relationship between fantasy and reality and the locations in which these two worlds collide.  
An ex-student of the Slade and Norwich School of Art, she exhibits and lectures widely, having also been awarded Artist in Residency positions in India, the USA and the UK including at ArtsAcre Calcutta, Millay Colony New York, WNO, Bardsey Island, Oriel Mostyn and Gloucester Cathedral.  Her work can be found at WWW.SUSAN-ADAMS.CO.UK