BEYOND ORPHEUS: an afternoon of poetry, film, movement and voice and instrumental improvisation. Six poets perform in an environment centred around Penny Hallas' film triptych, as the closing event for the The Tales We Tell exhibition at Un Deg Un in Wrexham. With Penny Hallas are Allen Fisher, Scott Thurston, Anthony Mellors, Steve Boyland, Rhys Trimble, Lyndon Davies and as yet unknown collaborators. Saturday February 28th, 2 – 5 pm.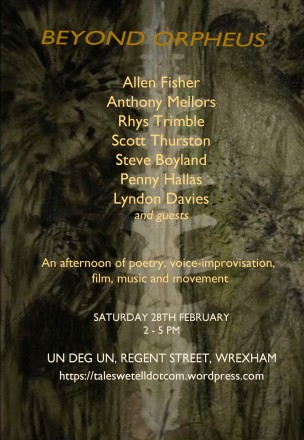 Penny Hallas says:   The body of work on level 1 and level 2 of Un Deg Un gathers together various contributions to an open ended and ongoing project centred on the myth of Orpheus and Eurydice. This began life in 2010 as an Arts Council Wales funded research and development project informed by the interplay between spoken, musical and visual languages. Called The Orpheus Project, it involved a collaboration with poets and musicians, and now, as Beyond Orpheus, multi-media collaboration is still at the heart of the process. This exhibition features, on level 1, the original series of 40 drawings for the Orpheus Project, for which the starting point is the moment Orpheus is torn apart by the Women of Thrace, after which his head floats, singing, down the River Hebrus. I'm interested in exploding the idea that there is one Myth – so these drawings represent elements or fragments of the myth which create a different constellation, and a different narrative each time they are hung. For me one of the central themes of these drawings is the way the Orpheus myth resonates across time and culture, colliding with parallel myths which also deal in the potency the image of the head holds for us. The film installation in triptych form, locates the Orpheus/Eurydice myth in the Craig Y Cilau Nature Reserve and surrounding area in the Black Mountains, and incorporates images and sound from developing collaborations with poets and musicians. Previous events and showings have been at exhibitions, seminars, artist led events and conferences, including:
From Here and There: drawings from Swansea to Colorado. Elysium Gallery, Swansea and Clara Hatton Gallery, Colorado, USA (2014)
Of Orpheus, Film, Poetry and Music with Steve Boyland, Lyndon Davies, Scott Thurston, Rhys Trimble, Nancy Downing, Bangor, Wales (2014)
Pantechnichon, ArcadeCardiff, Cardiff, UK (2013)
Orpheus and Eurydice Event, Glasfryn Seminars, Powys Wales (2013)
Essex University Centre for Myth Studies. Multi-media panel presentation with poet, Lyndon Davies. (2012)
Y Lle Celf ,National Eisteddfod Wrecsam (2011)
Frederick J Fredericks, Craig y Cilau Nature Reserve, Powys Wales (2011)
Interfaces: encounters beyond the page/screen/stage. University of Exeter, Arts and   Humanities Research Council. Multi-media panel presentation with poet, Lyndon Davies. (2011)
Myth, Literature and the Unconscious. University of Essex, Centre for Myth studies: Dept. literature, film and theatre studies and Centre for Psychoanalytic studies. Multi-media panel presentation with poet, Lyndon Davies. (2010)
Read Penny Hallas blog on the event, with lots of photos: http://boxingthechimera.blogspot.co.uk/2015/03/beyond-orpheus.html
Biography: Born in Yorkshire, Penny Hallas has lived and worked in Wales for a number of years. Her practice includes drawing, painting, printmaking, sculpture and film-making, balancing studio based work, with more collaborative approaches.  She has recently concluded another Arts Council Wales funded project – Boxing the Chimera – which involves exploring and re-visualising the real and imagined contents of 3 South Wales museums: Cyfarthfa Castle, Newport Museum and Art Gallery and Swansea Collection Centre. http://pennyhallas.co.uk
ALLEN FISHER is a poet, painter and art historian, website: www.allenfisher.co.uk. He has authored many publications of poetry, graphic work and commentary; recently: SPUTTOR, a book of the poetry, commentary and visual work (Veer Books 2014); The Marvels of Lambeth. Interviews & Statements, 1973-2005, edited by Andrew Duncan (Shearsman Books 2013); a collection of essays is forthcoming from the University of Alabama Press (2015). His visual work is in many collections in America, Britain and the UAE. In autumn 2014, Spanner Editions will publish TIP REGARD, a set of extracts from poetry in four projects. Allen is currently Emeritus Professor of Poetry & Art at Manchester Metropolitan University, one of Key poets at Voiceworks, Birkbeck College, University of London and Visiting Fellow at Northumbria University.
ANTHONY MELLORS's poetry has appeared in various anthologies, fugitive chapbooks, and journals such as Grille, Exact Change Yearbook, Great Works, Angel Exhaust, Angelaki, and Poetry Wales. Recent poems and sequences are included in The Lewknor Turn, published in September 2013 by Shearsman. With Andrew Lawson, he edited fragmente: a magazine of contemporary poetics. Critical work includes Late Modernist Poetics from Pound to Prynne (Manchester University Press, 2005), 'Autopsia: Olson, Themis, Pausanias' (Modernism / Modernity, 2012), 'Aesthetic Economy and Given Time' (SubStance, 2013), and 'Disabled Poetry', forthcoming in Textual Practice.
LYNDON DAVIES is a poet, reviewer, essayist and musician living in Powys. He has published three collections of poetry, Hyphasis (Parthian Press 2006), Shield (Parthian Press 2010) and A Colomber in the House of Poesy (Aquifer 2014). He co-runs the Glasfryn Seminars, a series of discussion groups on aspects of literature and art, and was a co-organiser of The Poetry Jamboree, a yearly festival of innovative poetry at Hay on Wye. He also runs Aquifer Books, which publishes mainly poetry-centered writing, and edits an online magazine of art and literature called Junction Box. Information about all these can found on the Glasfryn Project website http://glasfrynproject.org.uk/
STEVE BOYLAND was born in Liverpool in 1957, and sang with several local rock and blues bands during the mid-70s, before joining jazz-rock quartet Fusion in 1976, which was led by former King Crimson drummer Alan Mennie. He studied improvised music at the University of York in the early 1980s and moved to London in 1983 where he began participating in the free improvisation scene with figures like Maggie Nicols, John Stevens, Lol Coxhill, Pete Nu and Paul Rogers. The main focus of his work in recent years has been in the field of free improvisation, both through his solo work and through collaborations with international practitioners in performance, dance, visual and sound art as well as in improvised music. http://www.steveboyland.co.uk/
SCOTT THURSTON did his PhD in Poetics at Edge Hill 1997-2002. He now runs the MA Creative Writing: Innovation and Experiment at the University of Salford and co-runs The Other Room reading series in Manchester. He edits The Radiator, a little magazine of poetics, and co-edits The Journal of British and Irish Innovative Poetry with Robert Sheppard. He lives in Manchester. His books include: Figure Detached Figure Impermanent (Oystercatcher, 2014), Reverses Heart's Reassembly (Veer Books, 2011), Of Being Circular (The Knives Forks and Spoons Press, 2010), Internal Rhyme (Shearsman, 2010), Momentum (Shearsman, 2008), and Hold (Shearsman, 2006). He edits The Radiator, a little magazine of poetics, and co-edits the Journal of British and Irish Innovative Poetry. Scott lectures at the University of Salford, UK and has published widely on innovative poetry, including a book of interviews called Talking Poetics (Shearsman, 2011). See his pages at www.archiveofthenow.com/
RHYS TRIMBLE is a Bilingual poet / performer based in Bethesda, North Wales originally from Pontneddfechan. An experienced performer/improvisor interested in medieval welsh language & bilingual poetry, music/poetry, collaborations, digital-art and avant garde writing practices. Recent work includes performances at Dinefwr Festival (click here to see it), Blinc Digital Arts festival, and Eisteddfod 2012 (click hereto see it), Aberystwyth Drwm as a member of prosiect Datgeiniaeth – Datgan cerddi penpastwn with Twm Morys, Gareth Sion and Peter Greenhill (http://stiwdiogwellt.com/album/awdl-i-ddewi). Editor of Ctrl+Alt+Del. Ezine and studying for a 'psychomythogeographical' PhD in creative writing.