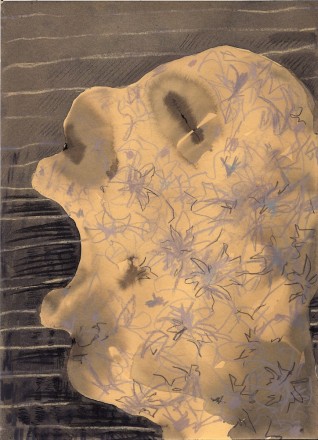 The Ghost Jam developed as an idea from an earlier collaborative performance called Beyond Orpheus, featuring Lyndon Davies, Scott Thurston, Penny Hallas, Rhys Trimble, Anthony Mellors and Steve Boyland. This, an amalgam of poetry, film, movement, music and voice improvisation took place in the dark attic space of Undegun in Wrexham. The space was sparsely lit and the audience moved through it from one performer to another. The position of each performer and the order of the performances were essentially prearranged.  Thematically the linking idea here was the myth of Orpheus, although the extent to which the working material of each participant reflected this theme varied greatly. Penny Hallas' films used material derived from a number of years working in the caves at Craig y Cilau in the Brecon Beacons national park above Llangattock.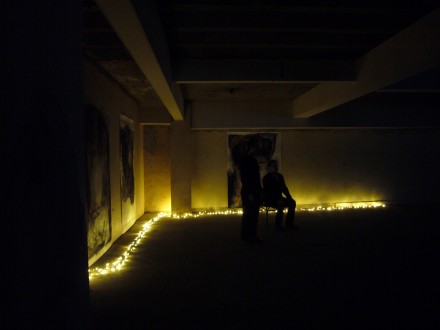 Scott Thurston and Steve Boyland
The first true Ghost Jam took place in Crickhowell in 2015, and again featured poetry, movement, music, sound-manipulation and film. The idea of the ghost becomes its own theme now. Established texts were interspersed with improvised verbal/textual, sound, dance and musical interventions. Performance order was not prearranged, the idea being that the piece should be allowed to engender its own rhythm and structure as it developed.
The second and third Ghost Jams, in Chapter arts centre and Dempseys pub in Cardiff in 2016 explored these ideas further, abandoning all ideas of thematics and dedicated individual spaces, utilising found texts, cut-ups, pre-recorded and manipulated sound, drawing the audience into the performing spaces as participants in their own rights.
It is envisioned that some future Ghost Jams will work thematically again; for instance on October 27th the Ghost Jam will return to the theme of Orpheus/Eurydice for a performance in London under the auspices of Essex University and the University of East London (venue to be announced). Other Ghost Jams might return to freer structures, using material generated by previous events.
Ghost Jam 1
The first Ghost Jam experiment – October 2015 – brought together a group of artists, writers and performers, most of whom knew at least some of the others. The venue was the scout-hut in Crickhowell, a small town in Powys. There was a small audience.
The group comprised a visual artist, Penny Hallas, who had made two films for the occasion, eight poets/writers and a movement artist called Emma Lewis-Jones, from Nottingham, whose role was to respond in any way she saw fit to what was happening. Of the poets, two – Graham Hartill and Lyndon Davies – also played saxophones and percussion, and another – Rhys Trimble – also played the drums. The other poets/artists/performers were: Allen Fisher, Wanda O'Connor, Camilla Nelson, Steven Hitchins, Tilla Brading and John Goodby. Steve Groves did the sound.
 Two Films of the Event
The films linked here provide a rough record of the event. The camera ran out of power before the end, and so the final part of the film has been cobbled together from reversed sections, still images and a short sequence from Penny Hallas' film. Technical problems, particularly regarding the synchronisation of sound and image, required a few cuts and fades to be inserted here and there.
It needs to be emphasised that this event should be seen as a first rough rehearsal for some theoretical future event and that all the participants will have their own ideas on where the weaknesses lie and what they would do to improve things (kick the barking dog out earlier might be one, though some enjoyed the slightly demonic aspect of this intervention). All the same, the feeling seems to be that there are things here which work and are worth preserving and perhaps developing.
Part 1
Part 2
Ghost Jam 2
The second Ghost Jam took place in Chapter Arts Centre early in 2016. The participants were Rhys Trimble, Wanda O'Connor, Steve Hitchins, Penny Hallas and Lyndon Davies.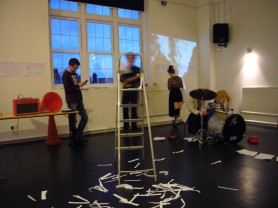 Ghost Jam 3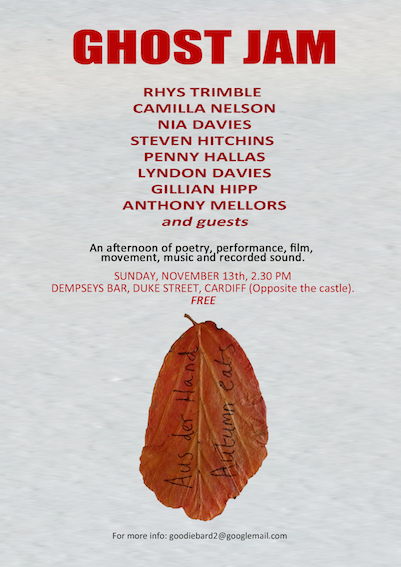 The third Ghost Jam took place at Dempsey's Bar in Cardiff on November 13th 2016.The contributors were Steve Hitchins, Lyndon Davies, Rhys Trimble, Nia Davies, Penny Hallas, Anthony Mellors, Tilla Brading, Chris Paul and assorted members of the audience. There were also three individual readings, by Phil Maillard, Julia Lewis and Josh Robinson. The sound track is by Steven Hitchins, visuals by Lyndon Davies.
Ghost Jam 4 and 5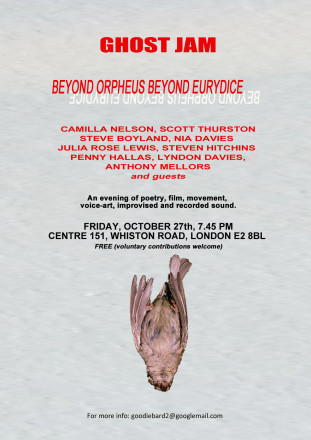 The Ghost Jam moved to London for two new episodes. On the afternoon of Friday 27th October it performed at a conference called Translating Eurydice, organised by the Centre for Myth Studies, University of Essex and the University of East London at the Stratford Campus: https://essexmyth.wordpress.com/conferences/translating-eurydice/
Then in the evening the Orphic/Eurydicean theme was developed further for an open audience at Centre 151, near Hoxton.
Here are some photographs. The films on the walls are by Penny Hallas.
We were joined by Ian Maclaughlin, free-form improvising musician, who brought a kind of euphonium. There were guest readings by Gavin Selerie and Frances Presley.
Huge thanks are due to Pierre of Centre 151 for his assistance.
Sixth Ghost Jam
This formed the final event of the Black Mountain College celebration weekend in Crickhowell, May 26th – 27th. The participants were: Allen Fisher, Pierre Joris, Nicole Peyrafitte, Camilla Nelson, Anthony Mellors, Wanda O'Connor, Sarah Rhys, Penny Hallas and Lyndon Davies.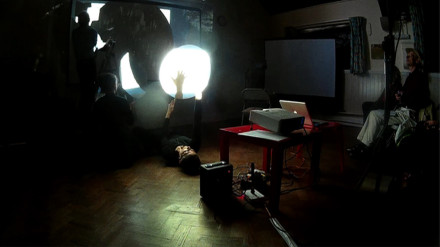 Pierre Joris at Black Mountain Ghost Jam 2018. from Lyndon Davies on Vimeo.
Canalworks/Canalchemy Ghost Jam at Brecon Theatre.
The Ghost Jam and Canalchemy projects came together in November 2018 in association with Penny Hallas' 'Canalworks' exhibition at Theatre Brycheiniog in Brecon. Hallas' work concentrated on aspects of the Monmouthshire to Brecon canal, in particular exploring the visual theatre of the major relining work carried out on one section in 2016, but attending, too, to the history of the canal by means of artefacts dug up out of the clay. This canal is still very much in operation as a tourist amenity, with carefully controlled nods to the explosive industrial moment which was its original reason for existence. On the other hand, the Merthyr to Cardiff canal has virtually disappeared, buried under the A470 and Taff Trail and various streets of Cardiff. The Canalchemy project involved walking stretches of this canal, performing actions and readings along the way. Two canals: one dead but more immediately redolent of its deep industrial past, the other living but with the wildness of that past manicured almost away to nothing. Ruin versus heritage recreation. Desolation versus the picturesque. This event will be exporing such ideas and others through the medium of poetry, movement, ritual actions, music, film and sound. Participants were: Allen Fisher, Nia Davies, Camilla Nelson, Anthony Mellors, Penny Hallas, Tilla Brading, Steven Hitchins, Lyndon Davies, with guest appearances from Phil Luffman, Lucy and Rose.
Ghost Jam at TactileBOSCH, UnderTheCounterCulture, November 2019
This Ghost Jam took place within the installation of film, performance and sculpture, by Penny Hallas and Tessa Waite with sound by Lyndon Davies, at The Old Rectory in Cathedral Road, Cardiff, on the occasion of the major site-specific exhibition organised by TactileBOSCH. The participants were: Scott Thurston, Wanda O'Connor, Nia Davies, Anthony Mellors, Steven Hitchins, Tilla Brading, John Goodby, Rhys Trimble, Lyndon Davies and Tessa Waite. The following film of the Ghost Jam event was made by Penny Hallas, with soundpiece by Steven Hitchins.