SCOTT THURSTON
SCOTT THURSTON'S books include: Reverses Heart's Reassembly (Veer Books, 2011), Of Being Circular (The Knives Forks and Spoons Press, 2010), Internal Rhyme (Shearsman, 2010), Momentum (Shearsman, 2008), and Hold (Shearsman, 2006). He edits The Radiator, a little magazine of poetics, and co-edits The Journal of British and Irish Innovative Poetry. Scott lectures at the University of Salford and has published widely on innovative poetry, including a recent books of interviews Talking Poetics (Shearsman, 2011). See his pages at www.archiveofthenow.com/
GRAHAM HARTILL
Poet, workshop facilitator, lecturer. Born in 1952 in the English Midlands, Graham has lived in Wales most of his life since 1971. He studied at the Universities of Wales and Massachusetts, and has since given countless workshops and classes in the UK, USA and China. Co–founder of LAPIDUS, the UK–wide association for the promotion of creative writing in therapeutic contexts, Graham was also a Scottish Arts Council Writing Fellow 1990-92 and an Arts Council of Wales Writer's Bursary recipient 1993, 1999 and 2006. Selected Publications: Ruan Ji's Island and (Tu Fu) in the Cities (The Wellsweep Press, 1992); The Lives of the Saints (RWC Press); Cennau's Bell (The Collective Press, 2005); A Winged Head (Parthian, 2007)
CLAUDIA AZZOLA
Poet and translator, has 5 poetry collections published and her poems are being translated into French and English. She is the editor of the Traduzionetradizione journals, dedicated to the translation of the best known Italian and European poets into the major languages (English, Italian, French, Spanish, Portuguese, Romanian, Hungarian, German and, next, into Turkish, Albanian, Dutch).
Anyone wishing to buy copies nr 3, 4, 5, 6, (editions 1 and 2 being sold out) please contact:
claudia.azzola@fastwebnet.it
ANTHONY MELLORS
Anthony Mellors has recently completed 'Autopsia: Olson, Themis, Pausanias', which will appear in the next issue ofModernism / Modernity, and an introduction to the economics of aesthetic crisis. He is the author of Late Modernist Poetics from Pound to Prynne (Manchester University Press, 2005), which has just been issued in a new paperback edition. His poetry includes A Pastoral (Oxford: 1992; reprinted in Exact Change Yearbook (Exact Change / Carcanet, 1995) ) and The Gordon Brown Sonnets (Verisimilitude, 2009). He is currently working on a long sequence of 24-line poems, Bent Out of Shape, parts of which have appeared in the final issue of Great Works(http://www.greatworks.org.uk/index.html) and in the Spring 2011 issue of Poetry Wales.
MARJORIE PERLOFF
Marjorie Perloff is the author of many books on Modern and Contemporary Poetry/Poetics including poetics ofIndeterminacy: Rimbaud to Cage, Radical Artifice, and most recently Unoriginal Genius; Poetry by Other Means in the New Century (Chicago, 2010).  She is professor emerita of English and Comp Lit at Stanford University.
FIRE MAGAZINE
Fire magazine has, for the last 17 years, published poetry (mainly) and prose from innovative, experimental and alternative writers, and from young, new or little-known writers from across the UK and worldwide. Each issue provides an anthology of the best of such contemporary writing, and many issues are loosely themed. Some have more of an international flavour than others, and the current double issue, Fire 33/34, is one such, with an emphasis on science and history as well as the wider world.
This new double issue costs £10. It's nearly 300 pages long and contains poems by writers as varied as Tom Lowenstein, Harry Gilonis, Chris Ozzard, John Ash, Harriet Tarlo, Peter Gizzi and John Welch. Single issues cost £7, and a three issue subscription costs £12 and is excellent value for money. Copies of recent issues will be available at this year's Jamboree.
Unfortunately the next issue in 2012 will be the last issue of Fire. The magazine is no longer open for submissions.
To buy please send a cheque or postal order made out to FIRE and send to:
Jeremy Hilton,
Field Cottage, Old White Hill,
Tackley, Kidlington,
Oxon, OX5 3AB, UK.
ROY FISHER
has published over 30 poetry books, and has been the subject of numerous critical essays and several studies, including The Thing About Roy Fisher: Critical Essays on the Poetry of Roy Fisher, edited by Peter Robinson and John Kerrigan (Liverpool University Press, 2000), and of The Unofficial Roy Fisher, edited by Peter Robinson (Shearsman Books, 2010).
He has published three books with Bloodaxe. The Dow Low Drop: New & Selected Poems (1996) was superseded by his later retrospective, The Long and the Short of It: Poems 1955-2005 (2005). This was followed by his most recent collection, Standard Midland (2010), published to mark his 80th birthday. Standard Midland was shortlisted for the 2010 Costa Poetry Award. Roy Fisher's first US selected poems, edited by August Kleinzahler, is due from Flood Editions in 2011.
Born in 1930 in Handsworth, Birmingham, he retired as Senior Lecturer in American Studies from Keele University in 1982. He is a freelance writer and jazz musician, and lives in Derbyshire.
DAVID WOOLLEY
Poet & Event Organiser, is pleased to support The Hay Jamboree.

Many of you will know me from my years in Swansea, organising events at the Dylan Thomas Centre.  I am now working freelance, and currently moving between Herefordshire, Dorset and the rest of SW England.  I am currently involved with at least four different festivals, and if any of you fancy a break in the south west this year, look out for festivals in Cornwall – 1 – 3 June – see www.bodminmoorpoetryfestival.com , Exeter –  4 – 7 October – see www.cypruswell.org , Bridport in Dorset, 10 – 14 October see www.bridport-arts.com and Plymouth – 12-16 September – see www.cypruswell.org I am also still writing and performing poetry, having recently co-edited The Captain's Tower – 70 poets for Bob Dylan at 70 – see www.thecaptainstowerdylanbook.blogspot.com (available from Seren)  and my most recent collections are Written on our Hands (Headland) 2006  – "Dave Woolley's words …slide away from easy meanings…slyly punning, never straining or muscle-bulging…threading together fragile-seeming but tensile webs of sound""  (John Goodby), and  Pursued by a Bear (Headland) 2010  – "I love the lightness and clarity of your poems."  (Tess Gallagher).  I'm available for readings and workshops, and both books are still available from Headland or from me at  davidwoolley.westwords@yahoo.com
ALLEN FISHER
Allen Fisher is a poet, painter, publisher and art historian, lives in Hereford. Over 140 single-authored publications of poetry, graphics and art documentation; contributed to Fluxshoe England West in 1970s; exhibited in many shows from Fluxus Britannica Tate Britain to Lifting from fear King's Gallery York. Examples of his work are in the Tate Collection, the Living Museum, Iceland and various private collections in America, Australia, Britain and UAE. Seven recent books were Proposals: poem-image-commentary; Leans; Confidence in lack, essays; Singularity Stereo, Place; Entanglement; and Gravity. Recent talks included The Æsthetics of the Imperfect Fit with a coda for Joesph Beuys, at Glasfryn Seminars, and Poetic facture and visual art for Plymouth Contemporary Poetry & Source.
AMY WACK
Poetry Editor, Seren.
PAUL GREEN
Last year I read at the Jamboree , giving a preview of  The Gestaltbunker – Selected Poems 1965-2010. I'm pleased to say it's now available from Shearsman Books:
http://www.shearsman.com/pages/books/catalog/2012/green.html
In 2010, I presented  two of my video collaborations with Jeremy Welsh, operating as The Quantum Brothers.  Poems from "The Slow Learning" are included in The Gestaltbunker , while  texts  and imagery from "Radial City"  are now published in the Kindle e-book  A Beginner's Guide To Radial City, available from:
http://www.amazon.co.uk/Beginners-Guide-Radial-City-ebook/dp/B0061PU31Y/ref=sr_1_1?s=digital-text&ie=UTF8&qid=1333282974&sr=1-1
My novel  The Qliphoth is still available, via www.libroslibertad.ca, amazon.com
(Canada & USA)  and amazon.co.uk.  E-book editions can be found on Kindle and
http://www.smashwords.com/books/view/113798
A sequel awaits an adventurous publisher.
I'm not sure if I can make this year's Jam –  I may be in the throes of re-locating to Hastings – but if not, have a wonderful time on my behalf.  It's a unique event, and respects to Lyndon, John and the team for making it happen yet again.
KATE DUFTON
CHRISTOPHER TWIGG
Christopher Twigg was born on October 3rd, 1958 in Bromsgrove, England, the only son of a Priest. He read English at Pembroke College, Cambridge, and then became qualified as a teacher, working in Hounslow and Brixton.
In 1986, he went to live in Granada, Spain, where he studied Machado (Antonio), Lorca and St John of the Cross, and began to write and draw. From 1989 to 1994 he studied painting at the Slade school.
Christopher also writes songs and poems. He is singer and guitarist for the neo-old time urban hillbilly indoor rambler group Chicken of the Woods, much loved by listeners of Greater London Radio. Their first CD, Chicken of the Woods, was released by Floating World records in January 2001.
His first book of poems, Nature Poetry, was published in 1992 by Knife Edge Press. A second collection, Adventures in the West, appeared in 1994, published by RMG, and a third, In the Choir, published in 1997 (Alces Press) was Pick of the Week paperback in the Guardian. A new collection of poems, A Cherub That Sees Them, was published by Pollack Press in Summer 2001.
DAVE TIDBALL
Dave was born and raised in Wales but has lived for many years in Oakland, California. He became active in the London jazz scene in the 1970's, including recording two albums and touring with British jazz fusion pioneers Turning Point. He has performed in a wide variety of settings, notably the trio Threedom, with bassist Bill Douglass and drummer Robert Kaufman, the sextet Triceratops, and singer Paula West's quintet, recording CD's with each. Also featured soloist on the albums of Vivian Sayles, Tony Adamo, Benny Watson and Peter Zak. His current band, provisionally named "Clarinecstasy", has four clarinets, and he's also a member, with Tony Corman and Laura Klein, of FivePlay Jazz Quintet.
www.fiveplayjazz.com/reviews.html
MARJORIE PERLOFF
Marjorie Perloff is the author of many books on Modern and Contemporary Poetry/Poetics including poetics of Indeterminacy: Rimbaud to Cage, Radical Artifice, and most recently Unoriginal Genius; Poetry by Other Means in the New Century (Chicago, 2010).  She is professor emerita of English and Comp Lit at Stanford University.
ARTS ALIVE WALES
Arts Alive Wales is a charitable company based in rural South Powys.  We create opportunities for people of all ages to take part in high quality arts activities led by creative professionals both at our venue in Crickhowell and elsewhere in Wales.
Over a period of more than 20 years, Arts Alive Wales has earned a reputation for the quality of its work in the visual and applied arts. This remains the foundation of a wide-ranging programme of activities, both at our Crickhowell venue and in the community, that now regularly includes the performing and literary arts.
The Arts Alive Wales ethos is to work in collaboration not only with arts practitioners but with organisations and individuals in the public and third sectors, to conceive and deliver activities that reflect our values and help us to achieve our objectives.  To maximise our impact, our programme is organised on a thematic basis, focusing on Arts and Health and Arts and the Environment.
Arts Alive Wales works with over 60 freelance professional artists, craftspeople, performers, writers and musicians.  Our practitioners have a wide range of skills and experience in community, education and health settings. We have an established reputation for our work with children and young people. We work with all ages and abilities on collaborative community art projects – indoors and out.
WATERLOO PRESS
Waterloo Press offers readers an eclectic list of some of the most inventive and stimulating poetry from the UK and abroad. Our beautifully designed books include lost modernist classics, translations of senior international poets and vibrant collections by the most distinctive and striking younger poets around.
Waterloo Press brings radical and marginalised voices to the fore, mirroring the aesthetic value of their work in outstanding book design, including dust jackets; and original artwork for the covers. With its diverse and growing list, Waterloo Press breaks down the borders between contemporary schools of poetry, to forge a new poetics based on respect for craft, innovation and the challenge of real communication.
Its titles have always attracted excellent critical responses, and have recently garnered laurels including a PBS Recommendation, and shortlisting in the Aldeburgh First Collection Prize and the Ted Hughes Award for New Work in Poetry.
POETRY WALES
Founded in 1965, Poetry Wales is a quarterly magazine with an international reputation for excellent poems, features and reviews from Wales and beyond. Emerging from a rich bilingual culture, Poetry Wales explores the diverse perspectives of Welsh poetry in English and its international relationships.
Its interest in translation, and in local and national identities in a global context, are at the forefront of some of the most exciting developments in poetry today. The magazine is open to tradition and experiment, publishing poetry from a wide range of approaches. Against this background of dynamic contrast, it offers a lively and informed critical context for the best contemporary poetry.
TRAGHETTI DI POESIA
"Traghetti di Poesia" 5th edition 2012 twinned with the 4th HAY POETRY JAMBOREE offered lectures, discussions and a critical space devoted to the theater with the spectacle "Third Millenium, our wonder" by Gilberto Colla. The poet Guido Oldani discussed his own concept of Terminal Realism, investigating the role of objects in our contemporary consciousness.
The traditional three-day Festival of Poetry included an homage to one of the greatest figures of Italian poetry: Andrea Zanotto, who died recently. There were also audio-visual documents about the poet Fuad Rifka, Arab Christian, a friend of our festival, who died last year in his troubled Lebanon.
Also featured – The voices of women's poetry with Elena Salibra, Luigia Sorrentino and Margherita Rimi; an overview of literature in verse "Poeti Italiani del 2000" by Giuliano Landolfi; an exploration of the theme of justice and reality in prisons with Beppe Mariano's poems and some verses of the scholar Giuseppe Langella, from the Catholic University of Milan .
Jewel of the 5th T.d.p. Festival was " visual poetry across the world (1975-1980)" with Carlo Marcello Conti.
With the Fire Department and the World Poetry Movement , the dedication of that festival edition was "Italy steals the oxygen of the World" – poetry voices against the mafia crime of fires in woods.
Artistic Director: Guido Oldani with the collaboration of Lorena Carboni
www.traghettidipoesia.it
"Traghetti di Poesia" 5th Edition took place in Cagliari, Sardegna Island (Italy) from 27 to 30 of March 2012
RIC HOOL
Poet and organiser of the long-running Hen and Chickens readings in Abergavenny.
PETER LARKIN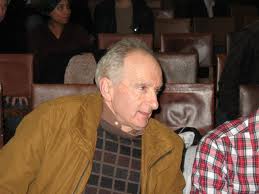 Peter Larkin is the author of Terrain Seed Scarcity, (2001), and Leaves of Field (2006).  A new collection Lessways Least Scarce Among has just been published by Shearsman in May 2012.  Recent work has appeared in Stride, Blackbox Manifold, Poetry Wales, Quarterly West and New Walk.  He has also contributed to The Ground Aslant: an Anthology of Radical Landscape Poetry (2011) An interview with Edmund Hardy is available at Intercapillary Space and another has appeared (with Matthew Hall) on Cordite.
MARY TICKEL
Mary Tickel lives in the Tennessee foothills of the Great Smoky Mountains. Before that she lived in Minnesota, which is why she has a blunt American Midwest mentality and speaks Minnesotan with a southern drawl.   While studying for her undergraduate degree in Literature, she had the opportunity to study for a year in Wales, which made a lasting impression on her. She also has graduate degrees in Information Sciences and Theological Studies.
Become a Friend of the Hay Poetry Jamboree
Become a Friend of the Jamboree, and simultaneously advertise your wares, your books, your business, your projects, your thoughts or simply yourself, on the webpage, (or not, if you'd prefer) by sending us a cheque for either ten, fifteen or twenty pounds, according to the following scheme:
£10 to have your name listed on the Jamboree web-page, with up to 30 words of biography/bibliography (or any other kind of textual utterance).
£15 for a textual entry of up to 60 words on the web-page. Plus, choose a free cd of one of many performances from the previous three Jamborees (see below for details.
£20 for a paragraph of up to 200 words on the web-page with web-links, logos, graphics where possible, plus the option of a choice of free cd from the list below.
By becoming a Friend of the Poetry Jamboree  you can now get a reduction of 25% on a one-year four-edition subscription to the amazing POETRY WALES – £15 only! Email us at the address below and we will send you a subscription form.
Please send a cheque made out to Glasfryn Seminars, to Lyndon Davies, Glasfryn, Llangattock, Nr Crickhowell, Powys, NP8 1PH with letter listing your name, address and choice of cd where applicable.
Send details for inclusion on webpage to goodbard@yahoo.co.uk
This year's Jamboree takes place from June 7th – 9th at Oriel Contemporary Arts, Salem Chapel, Bell Bank, Hay on Wye. For info click here: glasfrynproject.org.uk/w/1619/hay-poetry-jamboree-2012/