Allen Fisher
proceeds in the garden, after Dante's Paradiso
ix, xi & xvi, 2019-2021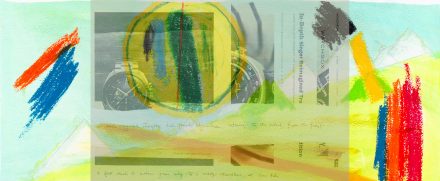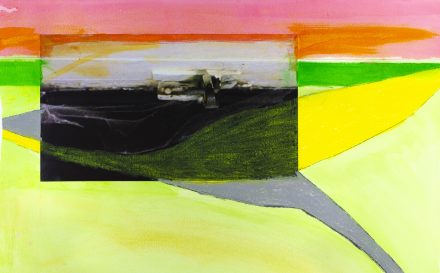 ix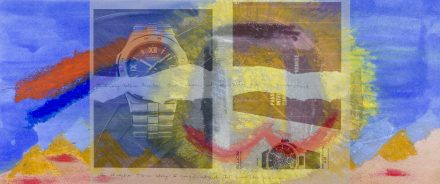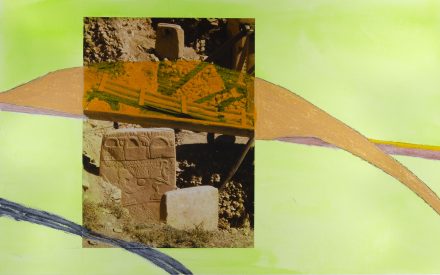 xi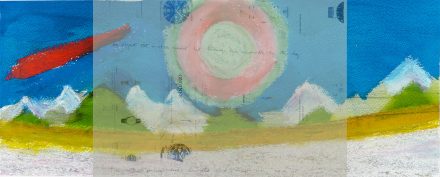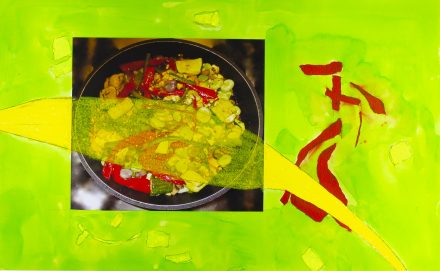 xvi
The upper images are from watercolour, oil pastel, graphite and layered collage, 2021
The lower images are from watercolour, oil pastel, graphite and collage, 2019
These images will be the verso and recto pages of the book proceeds in the garden to be published in Spring 2022.
The text across ix reads:
the look suggested thoughts had passed elsewhere, returning to the wheel from the first
a flat slick of water gives way to a muddy strandline at low tide
The text across xi reads:
the harmony between these two, their tenderness and care, their love, so wonderstruck
the adsorption toxins cling to spongy materials that spawn new pollution
The text across xvi reads:
an object that is still present but becoming less recognisable by the day
time with its pinking shears sawtoothed instead of straight will circle you
To listen to a recording of Allen Fisher reading the 'proceeds in the garden' texts, accompanied by Lyndon Davies' pre-recorded soundpiece: proceeds in the garden
(The occasion for this recording was a performance on September … at tactileBOSCH, Cardiff, during Fisher and Penny Hallas's joint exhibition – Materials from the Garden).
All photos of images by Paige Mitchell.
Allen Fisher (www.allenfisher.co.uk) is a poet, painter and art historian. He worked in a lead works, studied physics and human physiology, then art, drawing and colour at Goldsmiths, then Essex, came to live in Hereford to teach and stayed. He is Emeritus Professor at Manchester Metropolitan University. Retrospective shows of his paintings have been in King's Manor Gallery York (1993); Hereford Museum & Gallery (1994) Lulham Gallery, London (1998 and 2002), King's College Archive (2003) and Applestore Gallery Hereford (2013).
Work in public collections include Tate Gallery, London; King's Archive, University of London; Hereford City Museum; Living Museum, Reykjavik, Iceland.
Recent publications include the art-book Black Pond 7, Imperfect Fit (essays on Aesthetics, Facture & Perception, University of Alabama); No Longer Alone (poetry with photographs by Paige Mitchell). Two longer works of poetry, Gravity as a consequence of shape (1983-2007) and PLACE (1971-1981) are now available in a complete form from Reality Street Editions.