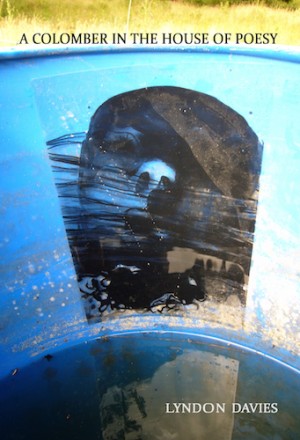 The Colomber, a mysterious shark-like creature, borrowed from a short story by Dino Buzzati, presides over Lyndon Davies' third collection of poetry. The mariners' legend has it that a colomber will pursue its chosen victim relentlessly, for an entire lifetime if necessary, until at last it succeeds in devouring him. Like many such stories about the world, this one turns out to be both catastrophically false and true.
Ranging through literature, art, myth and history, A Colomber in the House of Poesy explores the strange quantum nature of some of our most fundamental descriptions of reality, those time-honoured poetic artefacts which never quite stay where they're put, or behave as they're asked to.
'What unfurls is unexpected, steady and fernlike in its ability to open all around, laterally and forward moving. I could lose myself in many of the opportunities of the richest parts. . .'
David Greenslade
Published May 2014. Paperback, £7.99 / $13.50 / 10 euros
ISBN 978-0-9928438-1-6
Buy this book
Buy this book for £7.99 in the UK OR EUROPE, inclusive of Post & Packaging. Click on the Buy Now button below to buy single copies via Paypal.
If you prefer to pay by cheque (sterling) please make the cheque payable to Aquifer Books and send to Glasfryn, Llangattock, Powys, NP8 1PH
For buyers in the USA, AUSTRALIA OR NEW ZEALAND, the cost inclusive of postage and packing is £11.50. To purchase a copy click below:
For information regarding multiple purchase orders, including postage and packing costs, please email goodiebard2@googlemail.com
Data exchanged via Paypal for purchase and delivery of books will be used solely for the purposes of the particular transaction and then deleted from the email record. Invoices will be protected by password. No data will be shared with third parties.