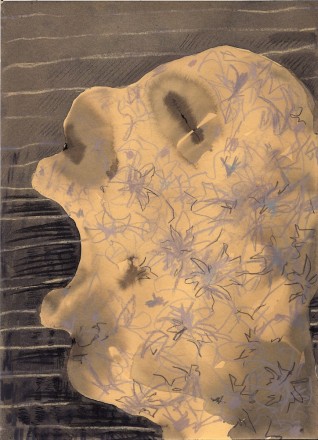 The Ghost Jam developed as an idea from an earlier collaborative performance called Beyond Orpheus, featuring Lyndon Davies, Scott Thurston, Penny Hallas, Rhys Trimble, Anthony Mellors and Steve Boyland. This, an amalgam of poetry, film, movement, music and voice improvisation took place in the dark attic space of Undegun in Wrexham. The space was sparsely lit and the audience moved through it from one performer to another. The position of each performer and the order of the performances were essentially prearranged.  Thematically the linking idea here was the myth of Orpheus, although the extent to which the working material of each participant reflected this theme varied greatly. Penny Hallas' films used material derived from a number of years working in the caves at Craig y Cilau in the Brecon Beacons national park above Llangattock.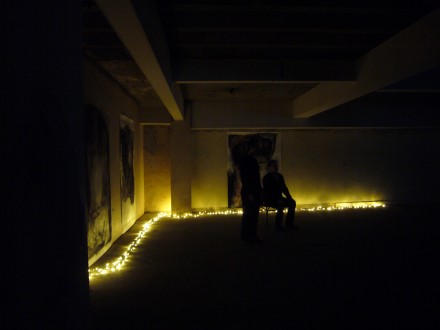 Scott Thurston and Steve Boyland

The first true Ghost Jam took place in Crickhowell in 2015, and again featured poetry, movement, music, sound-manipulation and film. The idea of the ghost becomes its own theme now. Established texts were interspersed with improvised verbal/textual, sound, dance and musical interventions. Performance order was not prearranged, the idea being that the piece should be allowed to engender its own rhythm and structure as it developed. The crucial aspect of this improvisatory approach is the demand it makes on the participants in terms of listening, watching and attending both outwardly and inwardly, mentally and somatically, to the proceedings, in order to find the right moments for engagement as well as the right speed, tone, etc to bring to bear on an action or a situation. It requires patience, forebearing, generosity, but also a capacity for abruptness and assertiveness – even disruptiveness – of response at certain moments where the necessity is felt. It requires also an ability to endure dead-air, silence, unease, inaction, dislocatedness, the courage to wait for the right moment to go around or over or through inevitable phases of impasse. The creative moment is always at risk, always threatened at the advent by the deadhand of established ritual/s, personal, social, artistic and so on. It may be necessary to wait for those self-limiting ritual impulses to pass, or to search for new unimagined rituals or fragments of ritual with a view to opening up viable routes out of or more deeply into those formations. This might be one of the aims of the Ghost Jam. And all this with a view to what? With a view, presumably, to finding out what kind of a collaborative ghost resides in this particular configuration of performers at this particular moment in time and space, what kind and degree of possible unity or fruitful disunity might be discoverable, in terms of artistic realisation.
The second and third Ghost Jams, in Chapter arts centre and Dempseys pub in Cardiff in 2016 explored these ideas further, abandoning all ideas of thematics and dedicated individual spaces, utilising found texts, cut-ups, pre-recorded and manipulated sound, drawing the audience into the performing spaces as participants in their own rights.
It is envisioned that some future Ghost Jams will work thematically again; for instance on October 27th the Ghost Jam will return to the theme of Orpheus/Eurydice for a performance in London under the auspices of Essex University and the University of East London (venue to be announced). Other Ghost Jams might return to freer structures, using material generated by previous events.
Ghost Jam 1
The first Ghost Jam experiment – October 2015 – brought together a group of artists, writers and performers, most of whom knew at least some of the others. The venue was the scout-hut in Crickhowell, a small town in Powys. There was a small audience.
The group comprised a visual artist, Penny Hallas, who had made two films for the occasion, eight poets/writers and a movement artist called Emma Lewis-Jones, from Nottingham, whose role was to respond in any way she saw fit to what was happening. Of the poets, two – Graham Hartill and Lyndon Davies – also played saxophones and percussion, and another – Rhys Trimble – also played the drums. The other poets/artists/performers were: Allen Fisher, Wanda O'Connor, Camilla Nelson, Steven Hitchins, Tilla Brading and John Goodby. Steve Groves did the sound.
 Two Films of the Event
The films linked here provide a rough record of the event. The camera ran out of power before the end, and so the final part of the film has been cobbled together from reversed sections, still images and a short sequence from Penny Hallas' film. Technical problems, particularly regarding the synchronisation of sound and image, required a few cuts and fades to be inserted here and there.
It needs to be emphasised that this event should be seen as a first rough rehearsal for some theoretical future event and that all the participants will have their own ideas on where the weaknesses lie and what they would do to improve things (kick the barking dog out earlier might be one, though some enjoyed the slightly demonic aspect of this intervention). All the same, the feeling seems to be that there are things here which work and are worth preserving and perhaps developing.
Part 1
Part 2
Ghost Jam 2
The second Ghost Jam took place in Chapter Arts Centre early in 2016. The participants were Rhys Trimble, Wanda O'Connor, Steve Hitchins, Penny Hallas and Lyndon Davies.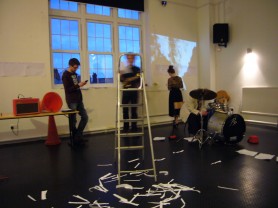 Ghost Jam 3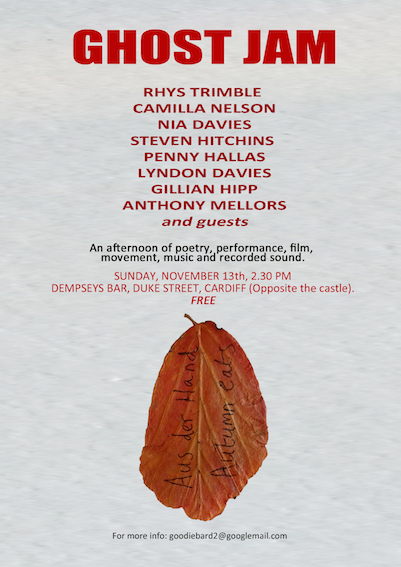 The third Ghost Jam took place at Dempsey's Bar in Cardiff on November 13th 2016.The contributors were Steve Hitchins, Lyndon Davies, Rhys Trimble, Nia Davies, Penny Hallas, Anthony Mellors, Tilla Brading, Chris Paul and assorted members of the audience. There were also three individual readings, by Phil Maillard, Julia Lewis and Josh Robinson. The sound track is by Steven Hitchins, visuals by Lyndon Davies.