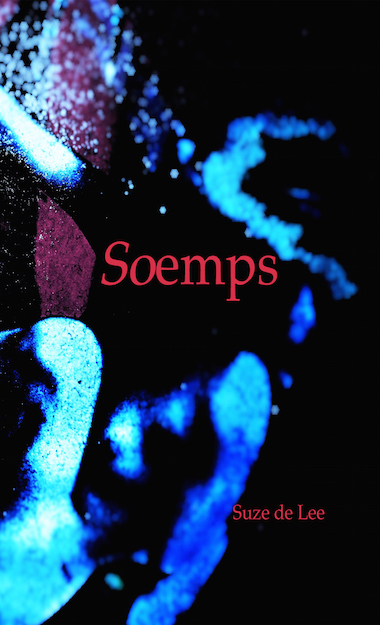 Soemps wears its hearts and voices on its richly embroidered sleeves. Hypnotically accumulative, drifting through memory, emotion and fantasy, it's a colloquy and play-poem celebrating the singularities and multiplicities of the self; the shifts and constancies, distances and sudden blinding nearnesses of the real.


Published August 2016. UK £8
ISBN 978-0-9928438-7-8
so emps is –
early white dog lips
climax red sequence
cradling open water
mysterious perished clocks
bliss & breath
bliss & breath
Suze de Lee
is a collage of birds
blue calon caressing effervescing breezes
is
emps
so breath breath & pure bliss.
(Rhys Trimble)
---
Buy this book
For buyers in the UK the cost is £8.00, inclusive of Post & Packaging
Payments are taken via PayPal
If you prefer to pay by cheque (sterling) please make the cheque payable to Aquifer Books and send to Glasfryn, Llangattock, Powys, NP8 1PH
For buyers in the USA, AUSTRALIA OR NEW ZEALAND, the cost is £11.50 inclusive of postage and packing. To purchase a copy click on the button below:
Buy this book
Buy this book for £11.50, inclusive of Post & Packaging
Payments are taken via PayPal
For buyers in EUROPE the cost is £10.50 inclusive of postage and packing. To purchase a copy click below:
Buy this book
Buy this book for £10.50, inclusive of Post & Packaging
Payments are taken via PayPal
If you prefer to pay by cheque (sterling) please make the cheque payable to Aquifer Books and send to Glasfryn, Llangattock, Powys, NP8 1PH
For information regarding multiple purchase orders, including postage and packing costs, please email goodiebard2@googlemail.com